While each candidate presented must possess the skills and experience necessary to address the challenges of a position, we recognize that central to any successful hire is the ability to effectively evaluate the "fit" between a candidate, the position, and the corporate culture of the client. Being thorough in this client discovery phase is critical to determining the type of leader that your company will need to grow its business.
Our skilled Search Consultants will facilitate a series of in-depth conversations with key stakeholders to help create clarity for the search and develop a collaborative hiring process.
Throughout the Discovery process, the Petenwell search team is collecting information about the culture and ethos of your organization, as well as getting to know the team who will work with and support your new executive. From the data collected, your Consultant will help you carefully craft a Job Description and to build a narrative about the organization and the opportunity that will be highly impactful when we reach out to qualified candidates.
Research – Creating the Pool
Once the agreed-upon goals are in place, we start the search process. We use a targeted, aggressive
strategy and conduct extensive, "original"  research unique to each search in order to develop a complete picture of possibilities. The marketplace is constantly changing, and we reject the impulse to reuse and rehash old candidate lists for expediency.
Combined with leading-edge sourcing techniques, we generate a broad list of target companies and organizations from which to recruit. We focus on passive candidates; our outreach is thorough, robust and persistent. We dig deep, and network with industry contacts and our broad array of deep personal relationships.
During Phase 2, you receive regular updates regarding overall candidate interest in the role, salary expectations, availability, location, and interesting insight into what targeted candidates are saying about your organization.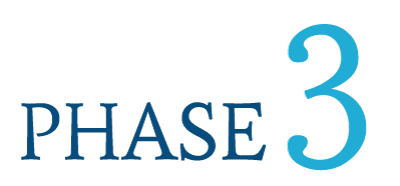 Candidate Assessment – Interviewing
Our team thoroughly evaluates each candidate by conducting in-depth personal interviews. We build excitement for our client's opportunity while scrutinizing the candidate's experience, career goals, motives and reasons for considering a new role.
Upon determining the best candidates, we create summary profiles (that's right, multiple candidates) that provide a detailed evaluation of each candidate presented.
When dealing with candidates, we are always aware of our client's reputation and brand, and ensure that we strengthen that reputation, whether candidates move forward in the process or not.
In addition, taking what we learned during the discovery phase, our Petenwell consultants lead your organization through an interview process that is collaborative and truly a team building experiences.
Employment Offer & Onboarding
Upon completion of the interview process, we conduct background investigations and thorough 360 degree reference checks, allowing for a balance and broad candidate perspective. At this point, our role should viewed as a trusted advisor. This is the critical junction where the process can succeed or fail. At this pivotal stage, we provide counsel and share insight on what we believe it will take in today's market conditions to develop a compelling offer. Although you'll already have many details from our candidate's details report, at this time we do an in-depth review of the candidate's compensation expectations, relocations issues, and other opportunities they may be considering, and potential timing concerns. 
Our involvement doesn't end once an offer has been accepted. We remain in contact and provide ongoing support to ensure a smooth transition and successful first year for the client and candidate. We will integrate our check-ins into your onboarding process, or help you develop an onboarding process for your new executive. Following the onboarding process, your Petenwell consultant will follow up on a monthly for the first year of employment.